CT Newsroom
Lahore Leads University's Department of Politics & International Relations' MPhil student Usman Anwar Ch has presented his research article in the "1st International Conference on Sustainable Ocean for All: Harnessing the benefits of Ocean for Pakistan's Economy" which was held at Minhaj University Lahore on 25-02-2023. Topic of Usman's research article was "Game Changer for Pakistan: Significance of Gawadar for Pakistan's Economy & Factors of Underutilization of Gawadar Port".
Usman Anwar Ch who is doing his MPhil research under the supervision of Dr. Zakir Hussain presented the paper which covered the causes/factors of underutilization of Gawadar Port in Pakistan. The paper besides discussing that how Pakistan can harness the benefits of ocean for Pakistan's economy also provided recommendations to overcome the underutilization of Gawadar port. The paper suggested that the underutilization of Gawadar Port can be overcome by improving the regulatory framework, enhancing security measures, developing supporting infrastructure, increasing investment, promoting regional economic integration, enhancing connectivity, expanding port facilities, improving human resource capacity, and promoting local industries; that was praised by the management of the conference.
Abstract of the paper is given below: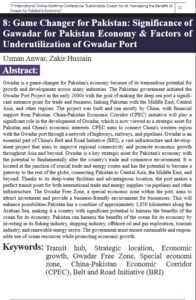 LLU Department of Politics & IR Head Dr Khadeeja Imran while appreciating Usman Anwar said that research is a scholarly task that cannot be done without passion and proper guidance. "I congratulate our student Usman Anwar and his supervisor Dr. Zakir for getting this useful research work published in an esteemed research journal", she added.