To promote tech-based education in Pakistan, Enablers College of Technology (ECOT) signed an agreement with UNIMY-Malaysian University on Monday.
Enablers College of Technology Director Tabinda Usman and UNIMY-Malaysian University Marketing and Admissions Director Tina Lio signed the agreement.
Education Scenario International is a knowledge partner of ECOT and its Managing Director Samiullah Sami connected both the organizations to pave a way for Pakistani students to get international-standard technical skills here in Pakistan.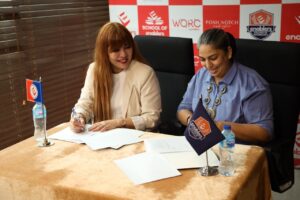 While talking on the occasion, Tina Lio said that Pakistan is a potential country in terms of its 60 percent young population and with mutual efforts we can equip this youth with latest technical skills.
Tabinda Usman while talking to media said that ECOT is aimed at making Pakistani youth technically skillful. She added that this is the time when Pakistan should adopt modern and futuristic practices to move with the pace of the world.
About the agreement, she said that UNIMY-Malaysian University is a wonderful organization and ECOT would make full use of this agreement for the better training of its students.